To set up a People's Choice contest for your pageant, follow these steps.
1. Login
2. Go to your Dashboard. If you're not taken to your Dashboard immediately after signing in, click on the "Profile icon" in the top right corner and select "My Dashboard" from the drop-down menu.

3. You will see a list of Pageants. Click "Manage" on the pageant you want to host the People's Choice.
Please note: If you don't see a pageant, make sure the "View your profile as" is set to "Pageant".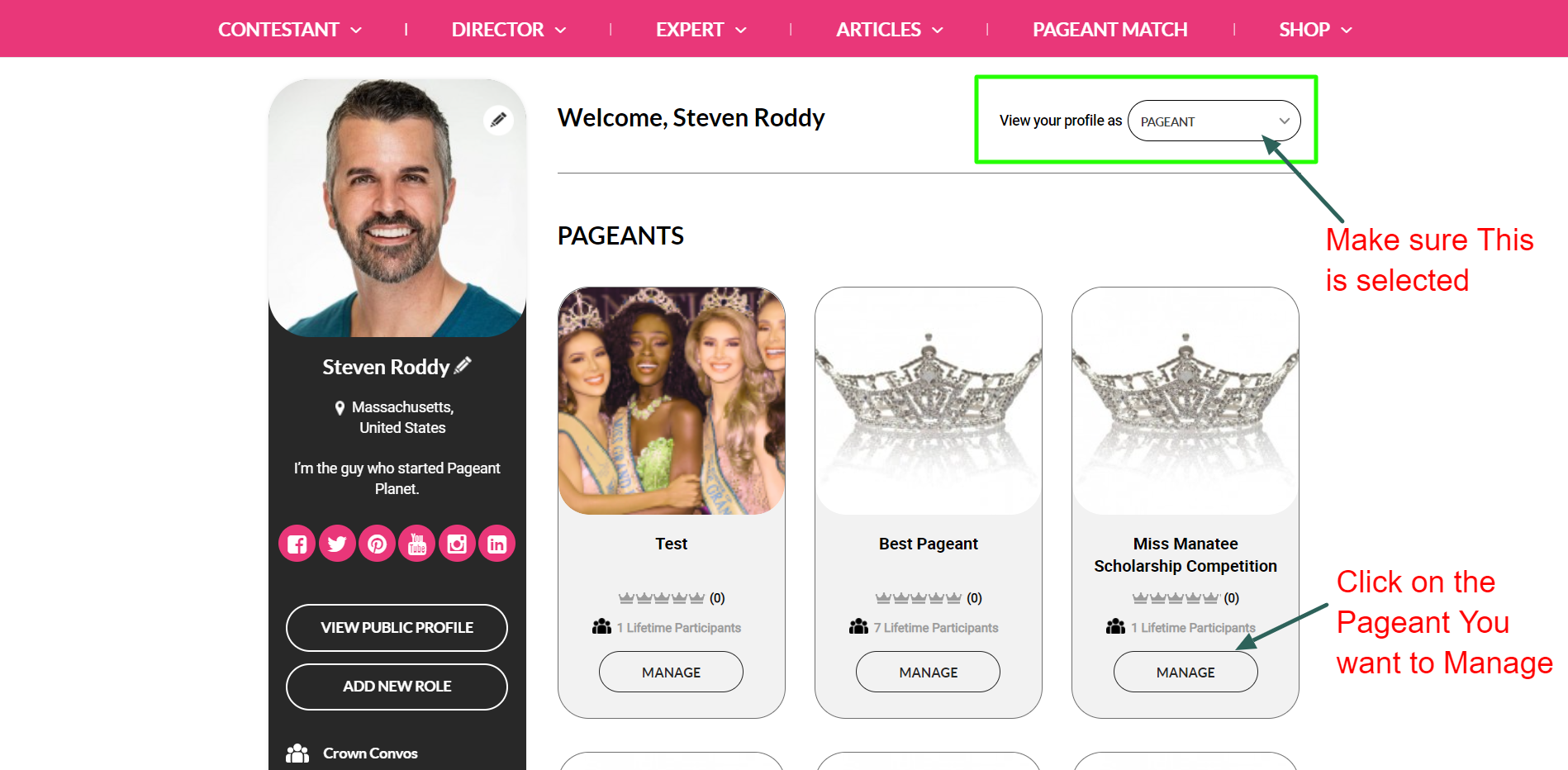 4. You will see the list of events for the Pageant.
Click on the upcoming event that you want to host the People's Choice Awards for.
Do NOT activate a People's Choice on an event from a previous year. If you don't see the current year, you will need to click "Add Event" and add it.


5. Once you select any event to "Manage", You will be redirected to that event's page. From there, Click on "People's Choice Awards"



6. You will need to check the box that says "Activate" and then click Save. Here's what it looks like: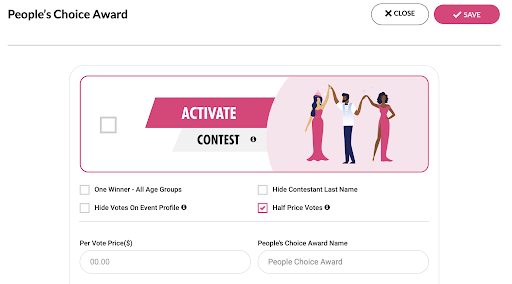 6. Clicking on "Save" will activate your Contest.
7. If you are not automatically redirected to add contestants, Then click "Close" -> Contestants -> Add Contestants. For in depth help on adding contestants, please visit this Personal Assistant article.
Please note that finding contestants in our database is BETTER for your contest because those contestants are notified each time someone votes for them! Contestants that you have to add to the database are not notified that someone has voted for them unless they claim their profile.
Editing Contestants After You Set Up Your People's Choice
You can edit everything about your contestants after set up, except their name.

For contestants in the wrong division,

click the delete icon to remove a contestant. Then re-add them in the correct division by clicking "Add Contestant"

For contestants with the wrong photo

, click the edit icon to upload the correct photo to that contestant.

For contestants with the wrong title,

click the edit icon to add the correct title.

For contestants with incorrect or misspelled names

, DO NOT add another profile. Reach out to support@pageantplanet.com to change the name.
Disclaimer
Please note that Pageant Planet takes an admin fee on all People's Choice contests. Got questions? Click here.